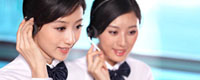 Name: JACK
Tel: +86-574-87301282
Fax: +86-574-87301292
E-mail: info@shonemedicalsupply.com
Add: NO 388 Huixian Road Haishu NINGBO CITY , CHINA


Product name : PVC venturi oxygen mask

Product No. : 201973114935
Details:
1. Adjustable venturi oxygen masks are devices that are constructed to supply oxygen or other gases to an individual.
2. Masks fit snugly over the nose and mouth, and are equipped with 6 different oxygen concentration diluters which allows to select different oxygen concentration accordingly, and a tube that connects the oxygen mask to a storage tank where the oxygen is contained, to be connected to central oxygen supplying system in different hospitals.
3. Transparent(green or white) plastic masks also leave the face visible, allowing care providers to better ascertain patients' conditions.
4.Convenience to choose different oxygen diluters for selecting different oxygen concentration rate
5. Peelable pouch with inner label which can be printed with OEM brand information
6. Can also be with paper-film pouch packing to be sterilized by EO Gas accordingly
7. Different colors with different oxygen conentration rate as below:
Venturi mask with 7 diluters, made from non-toxic PVC, is used for treating hypoxemia.
1.Be made of medical-grade PVC, 100% latex free,adjustable nose clip
2.with elastic strap,with 2m tubing
3.Includes adaptor for high humidity entertainment
4.Complete with 7-ft,oxygen supply tubing
5.transparent and green is available
6.Smooth and feathered edge of face mask for patient comfort and reducing irritation points
7.Size available: S ,M ,L ,L+,XL
8.Certificates with CE and FDA
Blue:24%
Yellow:28%
White:31%
Pink: 40%
Ornage:50%
Red:60%